Home
Discography
Biography
Merch
Press
Shows
Contact

RELATIONSHIP SNEAKERS



Click here to preview the album

Purchase for only $3 (Digital download)
TRY OUR MOBILE GAME!


LISTEN TO OUR RADIO STATION!




A Free 24/7 Stream of Goin' Places Music!
Click here to listen to Goin' Places Radio

WE ARE THE RADIO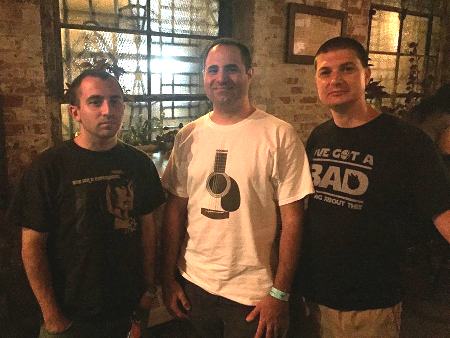 Goin' Places @ Knockdown Center - 9/16/2016
GOIN' PLACES is: (from left to right)

Frank - Bass
Richie - Vocals, Guitar
Victor - Vocals, Drums


The origins of Goin' Places date back to May 2000. Richie, Frank and Victor got together in Victor's basement and started writing songs in their downtime from their other bands. Drawing influence from bands like Screeching Weasel and the Mr. T Experience, along with classics like the Beatles and Buddy Holly, the three friends quickly came up with a catalogue of songs.

After spending a year playing local shows the band headed out to Indiana to record their debut album at Sonic Iguana with Mass Giorgini producing. The resulting album, "Girl Songwriting 101" was released in October 2002 on Coldfront Records and featured guest vocals from Joe Queer. The release of the album was followed by shows with bands like The Queers, Teen Idols, Groovie Ghoulies, Misfits, and CJ Ramone. After a recording session with Ramones producer Daniel Rey for the song "Never Forget" the band decided to slow down and let "real life" take over.

2008 saw the Goin' Places machine rev back into action but this time in a somewhat different direction. The band wrote and filmed two independent films which were released in 2008 and 2009. After that it was time to get back to basics and the group started work on the long delayed follow up to their debut album. The result is a brand new 15 song album called "Relationship Sneakers". The record is a collection of songs written over the last 7 years and shows the band starting to break out of the mold from the first record while still maintaining the catchiness and accessibility of their early material.


---




Designed by Goin' Places © goinplacesrock@gmail.com