GIRL SONGWRITING 101 - 15TH ANNIVERSARY (10/15/2017)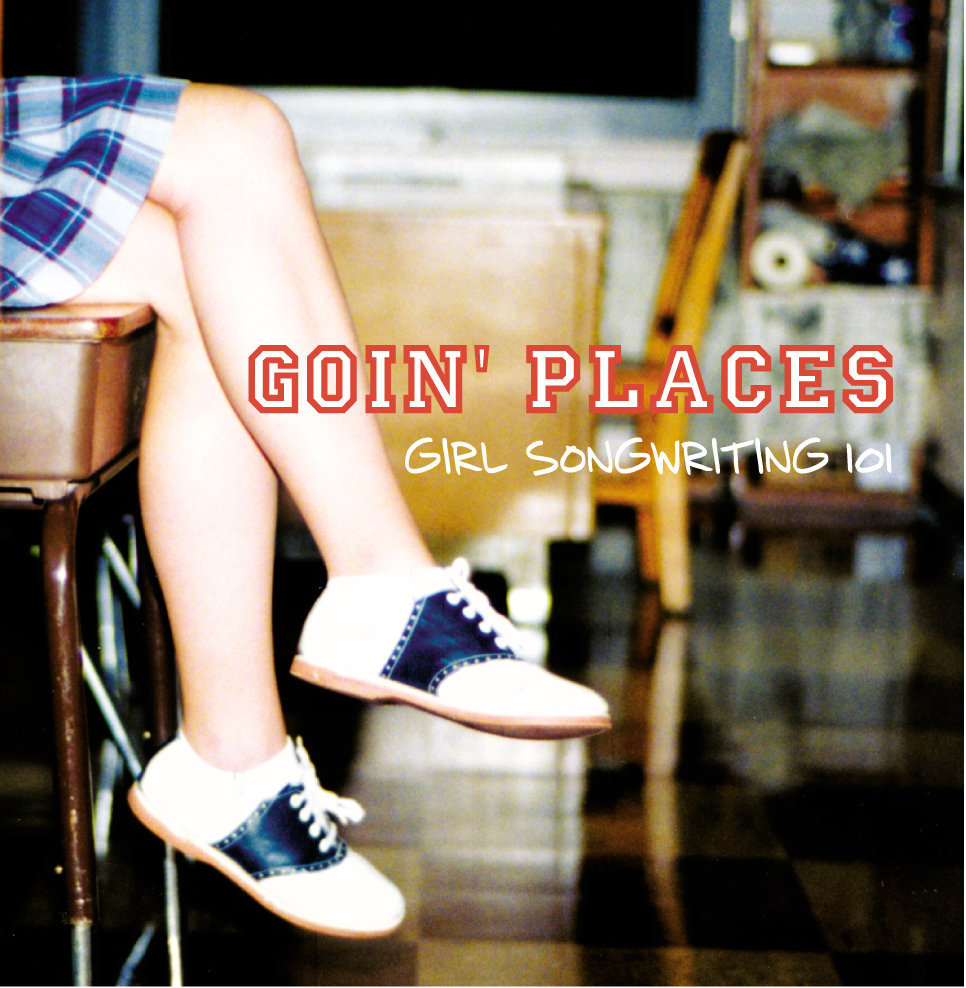 On October 15, 2002 our first album, "Girl Songwriting 101" was released. This was a huge (yuge?) deal for us at the time. It was the start of our band and music being heard outside of the small Staten Island, NY punk scene, so we wanted to do something BIG to celebrate the anniversary....like a special 2-CD re-release featuring demos, alternate mixes and unreleased tracks from the recording session. Also, a limited edition LP release on colored, 180 gram vinyl with a full color gatefold cover. Both featuring in-depth liner notes by the band with stories about the beginning of the band, the recording session and the writing of the songs.

Unfortunately that's not happening. But we do have what would have appeared in those releases if they did exist. Below is a narrative from all 3 of us, discussing the start of the band, the writing of the songs that would appear on GS101, the recording session with producer Mass Giorgini and much more.

Also, Mass was kind enough to send us a few words about his memories from recording the album. Here's what he had to say:

Mass Giorgini: "It was great having Goin' Places in the studio - very rarely do you see a punk band in which everyone can actually sing in tune and understands what a melody is! These guys were the first Italian-Americans I'd ever heard use "gravy" to mean pasta sauce, so I learned a few tricks from them too! Great guys, all around! They even helped watch my beloved pooches when Common Rider played NYC a few years later. I remember I put in an amazing amount of post-production time, because it always felt worth it. These guys appreciated the singers of the sixties, and it came through in their harmonies. So when it came to choosing takes, I was always choosing between 5 or 6 solid takes to find the best-rather than fishing for one that just happened to have the right notes!"

So click here to listen to Girl Songwriting 101 and let the album play while you read our memories below:

The Beginning

Richie: "Goin' Places started as a joke. The whole point of the band was to take a common theme (songs about girls) and run it into the ground. We wanted to keep the music as simple as possible - we weren't trying to be original."

Frank: "The 3 of us first got together in Victor's basement in May of 2000. At the time Victor and I were playing in a much heavier band called Robweoza and Richie was doing his band Yellow Teeth. Goin' Places was never meant to be a full time thing, just something for fun while we had some free time from our main bands. Like a lot of bands, we started off playing a bunch of covers, including several from Fat Wreck Chords' "Short Music For Short People" compilation (Groovie Ghoulies, Chixdiggit!, The Ataris). Soon we started writing originals."

Richie: "The first set of lyrics were written to be laughed at - they were never meant to be taken seriously."

Frank: "In December we recorded a 16 song demo (Bigger Than The Beatles). We started playing shows and sold/gave out the demo to anyone who was interested. 7 months later we recorded another 16 song demo (Good Good Stuff).

Richie: "We quickly recorded 2 demos with a lot of crap - the music, recording quality, lyrics, and performances were crap. We sent that crap to Mass Giorgini."

Frank: "Around this time my buddy Matt suggested that I send our stuff to Mass at Sonic Iguana Studios. I told him he was crazy and that Mass would never want to work with us...he only produced real bands. Matt said our stuff sounded just like everything Mass was recording, so I figured I'd give it a shot."

Richie: "To our surprise, Mass wanted to turn this crap into something better. It seems he was able to ignore the crap and appreciate the underlying melodies / harmonies. It's also very possible that he saw someone wearing a t-shirt that said 'Goin' Places' and mistakenly thought we had a following - we didn't have any t-shirts at that time. Luckily for us, we went along with this to see how it would play out."

Frank: "In September of 2001 we heard from Mass and he said he liked our stuff and would be interested in doing an album with us. So we made plans to head out to Indiana in January 2002. Also around this time I began corresponding with Joe from The Queers via mail. I had sent him our demos and he said he liked our stuff. I knew The Queers were heading to Sonic Iguana around the same time as us to record a new album, so I wrote to Joe and asked him if he'd want to sing on one of our songs if we were there at the same time. A week or so later I was sleeping on the couch in my parent's basement when the phone rang. I was still half asleep when I picked it up and heard "Hey Frank...it's Joe from the Queers." He told me that he'd be into singing on the album. Things were really starting to get exciting."

The Recording

Frank: "We picked our favorite 16 songs from the 2 demos and started getting ready to record at Sonic Iguana Studios. Prior to going we talked with Joseph P King (Joe Queer) and Mikey Huntington (The Huntingtons); both of whom had spent some time in the studio with Mass. They both warned us to be ready to work, cause Mass like to crack the whip. It's cliche to say, but without any exaggeration this opportunity was a dream come true. As someone who's musical identity was based on mail ordering albums from the Lookout Records catalog, there wasn't a bigger producer in my eyes than Mass. I couldn't wait to get to the studio and get started."

Richie: "Before heading out to Indiana, there was a lot of excitement - but also a lot of confusion. I remember thinking that this whole thing was probably a big misunderstanding - Mass probably mixed up our demo with someone else's and invited us by mistake. When we arrived, I was relieved to find out that Mass actually was expecting us - but then we heard about the 'Goin' Places' t-shirt, lol. At this point, we we're already there - so he probably figured 'I may as well record these guys anyway - this is their lucky day - I'm gonna make this band sound good'.

Frank: "When we arrived and walked through the door of the studio, the first thing we saw was the walls covered in frames containing all the albums Mass had produced. I probably owned close to 3/4 of those records...it was crazy. We also met Phillip Hill of the Teen Idols, who was working as an engineer at the studio. This was also a thrill. I remember first seeing the Teen Idols at Coney Island High and buying their first album which had just come out. I listened to it non stop for months."

Richie: "I remember Mass, Phillip, Dan, and team immediately recognizing that we had New York accents. It's funny - the three of us are not the typical, loud-mouth New Yorkers - but to the Sonic Iguana crew - we seemed like the three biggest Italian loud-mouths who just came off the set of Goodfellas or Donnie Brasco... "Forget about it". Mass also noticed our pronunciation of "human" and "huge" (sounds like "yuman" and "yuge" - he pointed out how New Yorkers like to drop the 'h' sound. We all had a great laugh about this. We were shown around the studio - which was awesome. I remember being impressed with the drum room - it was the perfect atmosphere to create the perfect sound. I also remember thinking how awesome it was that you can play these drums all hours throughout the night without disturbing anyone. I also remember noticing the mixing board / computer monitor - the monitor was huge (for that time period). We were shown to our room upstairs - it was pretty cool - it was like a hotel room. We immediately set up the Playstation 2 where I played Grand Theft Auto 2 in my downtime (and Victor played a Madden game - he was on a mission). "

Frank: "Before leaving for the night Mass told us that the phone line in the apartment was the same as the one downstairs in the studio. He said if it rang, to pick it up and just take a message from whoever was calling. Later that night the phone rang and Richie picked it up. I listened from across the room..."Hello?....no, he's not....oh, hey this is Richie from Goin' Places....ok, no problem". It was Justin from Anti Flag calling to talk to Mass. When he introduced himself as Justin from Anti-Flag, Richie immediately shot back "it's Richie from Goin' Places". That still cracks me up to this day....there's no way the guy had any clue who Richie or Goin' Places was. The next week was a blur of activity as we pretty much recorded from noon till about midnight or 1am everyday. "

Richie: "We recorded the drums first. We were amazed at Mass' attention to detail. He made sure every measure, every beat sounded perfect."

Victor: "What I remember the best is everytime I screwed up while recording Mass would say " let's call that a warm up" and make me do it over and over again. This happened a lot."

Richie: "The bass came next - the bass sound that Mass produced was amazing - it was the traditional 'bouncy' sound as Frank describes it. "

Frank: "I used Mass' Fender Jazz Bass to record my tracks. Prior to this I had only recorded in friends' basements. As a bass player it should have been beyond intimidating to have my first "professional" recording session in front of one of the greatest bass players of all time (remember the bassline on Squirtgun's "Field Trip"?). But honestly, it wasn't intimidating at all. Mass was so easy to work with."

Richie: "It was then time for me to record the guitars."

Frank: "When Richie started working on getting his guitar tone Mass put Dookie in the CD player and told Richie to play along with Welcome To Paradise. Mass said he loved the sound of the guitar on that song and liked to try to match it. Richie shot me a look, as if to say "this guy knows what's up"

Richie: "We recorded the left channel with my Stratocaster and the right channel with a GPC Weaselrite guitar - both were connected to awesome sounding Soldano amps. The end result was amazing. I even got to record with a Rickenbacker guitar for Commercial Soft Drink Girl."

Frank: "Richie recorded 36 guitar tracks in one day...he wasn't fucking around. One day towards the end of the week we took a break and headed out to grab dinner. I accidentally slammed the car door on Richie's hand while he was getting in. Without skipping a beat Mass said "well, at least we're done recording the guitars".

Richie: "We then did the vocals. The vocal sound that Mass produced was phenomenal. I remember Mass talking about the quality and cost of the vocal microphone we were using. This was pretty cool. Victor and I both recorded the keyboards (Victor actually recorded a shirt-less keyboard solo). We all recorded the backup vocals / hand claps. Mass and Phillip were extremely cool, down to earth guys. I remember one time I started playing "Hey Suburbia" on the guitar. All of a sudden, Mass started playing along with me. How cool is that? Mass and Phillip both appreciated our immature humor (both in our lyrics and in real life). It only took a couple of days before we were all telling each other jokes. We also got to hear a lot of great gossip about our idols / people in the business. Mass also introduced us to the word 'squirrely' and the phrase 'Where did you hide the hammer?... because you nailed it'."

Frank: "It may sound a little corny the way we keep going on and on about how exciting it was to "meet our idols", etc., but to put things in perspective this was over 15 years ago...before the internet and social media were as massive as they are now. Today with Facebook, Instagram, Twitter, etc. most of your favorite musicians are easily accessible. You can pretty much get in touch with whoever you want. Back then the people in our favorite bands we basically just guys we'd read about in zines or CD liner notes. When the bands would come through on tour, maybe you'd get to talk to them for 10 minutes at the merch table, but that was about it. Your other option was sending letters back and forth to their PO Boxes. So for us to spend a week living and working with guys from some of our favorite bands really was incredible. One day Richie was sitting on the couch and started playing a song from My Brain Hurts. Phillip watched him for a minute and said "That's how I played it at first too when I joined Screeching Weasel. But then one day Danny Vapid showed me how he played it on the album". He then went on to show Richie the "correct" way to play the song. Maybe it's just me...but to a young guy who was (and still is) obsessed with Screeching Weasel, that's pretty fuckin' cool!"

Richie: "During this time recording, I whipped out the video camera (without asking) and just started documenting (this was an analog video camera - before everyone had a smart phone video camera in their pocket). Mass / Phillip were kind enough to let me continue (well, they didn't say stop), so we video taped a lot of it. Victor, for some reason, announced that he wanted to name his first born child "Anakin". Frank and I had a great laugh about this - we imagined his classmates in the future, who didn't know about Star Wars, mocking his name, ANNAAKIIIN!!!"

Frank: "I actually met a kid named Anakin a few weeks ago...no joke! I wonder if he's the bastard son of Victor (just kidding!)"

Richie: " Another great moment I captured on tape was Victor knocking the camera out of my hands - I must have kept filming him when he didn't want to be taped - it's all in good fun, lol. We recorded during the day and went out at night. "

Frank: "Near the end of the session Jesse Michaels from Operation Ivy got into town to start work on the 2nd Common Rider album. Op Ivy was, and still is, such a favorite band of mine, so getting the chance to go out to dinner with Jesse and shoot the shit for an hour or two is a great memory."

Richie: "I remember one night when Mass took us to the premier Italian restaurant in Indiana - the Olive Garden. The Olive Garden was great - but what was more special was when we went out to a Chinese food restaurant - where Jesse Michaels from Operation Ivy happened to come along. We are all big fans and were thrilled to meet him. He reminded us a lot of our friend Mark - his appearance, laid-back attitude, and mannerisms. One great line I remember him asking us was if "Staten Island was an actual Island?". Jesse was a cool, down to earth guy. We all had a great time. On the last day, I remember waking up early - for whatever reason I didn't have time to fix myself up - my Italian afro hair (I had a lot more at the time) was a complete mess. Unfortunately it was time to go home. Victor drove most of the way home - I've never seen a man drive so fast in my life - the mini-van we borrowed from Frank's parents easily went over 100 MPH across the country. Maybe he missed Staten Island - but I would have loved to stayed in Indiana even longer. It was my dream - we would wake up - already in the studio - record, have fun, go out at night and then do it again the next day. It wasn't work - it was perfection."

Coldfront Records

Frank: "A month or so after we got home from Indiana we received the final mixes from Mass and started looking for a label to release it. We'd been talking to Tim at Mutant Pop Records who was in the process of releasing our "Warm Up" EP. He loved the album, but we both agreed that it probably belonged somewhere else, since at the time he was mainly only releasing projects on his Short Run CD-R format. I mailed out the album to a bunch of labels and waited to hear back. In June we played a show in Queens, NY with fellow Mutant Pop band The All*Stars as well as Project 27 (who's drummer would go on to be the songwriter and singer of the great The Young Rochelles). It must have been a really early show, cause I remember getting home around 9pm that night and my phone ringing. It was Brett Matthews from Coldfront Records. We started talking over the next week or so and eventually decided to release our album through him. I was a huge fan of the Plus Ones EP he had released around that time, so I was psyched to work with him"

Richie: "When our album 'Girl Songwriting 101' was officially released, it was an amazing feeling. I remember us walking into stores like Best Buy just to see our CD on the shelves. I couldn't believe that what started as a joke made it all the way here."

Victor: "15 years later we still get a reminder of this album every few months. We signed up to be part of ASCAP years ago. 5 years ago I got a letter to my house with the initials BMI on it. I had no idea what it was. When I opened it I found out it was a royalty check. It seems with out any of our knowledge our music has been used multiple times in TV shows. This means millions of people have heard our music. It has been used on shows such as Love and Hip Hop on VH1, Flipping Out, Starter Wives, and the Jim Gaffigan show on TV land. It is a pleasant surprise everytime a check shows up. The checks are usually very small, but it is the idea that music we wrote has a life after playing shows on Staten Island. We've been very lucky.

The Songs

"The Only Way"

Richie: "This was our opening song for our first demo, first show, and first album. The intro was purposely ripped off as a joke. The keyboard solo is also meant to be similar to Screeching Weasel's Cool Kids. The Frank Rizzo line at the beginning nicely sets the tone for the rest of the album. I always wondered if Johnny Brennan knew that his character from The Jerky Boys opened our first album (Frank and I are big fans)"

Frank: "Pretty sure Richie wrote the music and melody for this one and then we worked on the lyrics as a group. Screeching Weasel has a song called "Lose The Dink". The lyrics include "spray paint your name on alley walls. And by the way, my chorus blows. It goes heeeeeeeeeyyyyyyyyy!!!" I always thought it was so cool the way Ben Weasel was singing about the song itself. So that concept made it's way into our song, "The Only Way". Our's went "I can't talk to you so I wrote this tune. It goes whoa - a whoa oh". The intro to the song is another example of borrowed creativity; this time coming from The Mr. T Experience song "Here She Comes". Victor counted off the song (and the album) the same way Jym did. And the bass riff I played at the beginning of the song is a close approximation of what Joel Reader played."

"Girl Songwriting 101 (More Than Fries)"

Frank: "We had an idea to write a song about writing songs about girls. The chorus chant of "You see them, you want them, can't have them, write about them" came from Victor. Then Richie came up with the rest of the music and melody. Lyrics were once again a group effort, as was the case in a lot of the early songs. Victor was adamant that we get the phrase "more than fries" into the song. We had a friend who thought the Mr T. Experience song "More Than Toast" was the dumbest thing ever, so Victor wanted to come up with a line that he would find even dumber. We're only up to the 2nd song on the album and we've had 2 MTX references already...are you sensing a pattern?"

Richie: "We wanted to write something with a catchy, repetitive chorus. For the music, I wanted to try something a little slower (but not too slow). This is one of my favorite Goin' Places songs. I remember Mass asking us a very valid, logical question - how do you stare at her tits and look into her eyes at the same time?"

"Girl"

Frank: "This was one of Victor's songs. As is usually the case when he writes a song, he came to practice with everything...music, melody and lyrics."

Richie: "I loved recording the outro on this song - it was meant to be a lot like the outro of Hey Jude - just go crazy. I managed to throw in the line 'put it in your mouth' (a phrase that was yelled out by the louder kids in our high school many times), which Phillip thought was hysterical while engineering this one."

"Can't Get A Girl? (featuring Joe Queer)"

Richie: "This song was our attempt at dark humor - never meant to be taken seriously. I like the music to this song - it's two chords over and over again with a final 3rd at the end. Unfortunately, this was the song that Joe Queer chose to sing on."

Frank: "I remember going to see The Queers one night after Joe had agreed to sing on the album. We handed him a CD-R of demos of all the songs we were going to record for the record and told him to listen and pick whatever one he wanted to do. He took a look at the tracklist and started cracking up when he read the title of this one. I guess that's all it took. The 85 Maxima referenced in this song was mine. We used to affectionately refer to it as The Titanic because it stalled out in the middle of the street the first day I had it. Fun fact: there is a dance remix of this song that has never been released."

"Cut-Off Jeans Girl"

Frank: "Another one of Victor's. He wrote it at home on the piano and came to practice with everything complete. This is one of my favorite songs on the album. So simple, but so catchy."

Richie: "Great song by Vickie Walls. I love the back and forth up and down notes - 'see-you-with-your-daisy-dukes'."

Frank: "Typical Mass Giorgini humor....I remember him telling us that he thought this song could have a double meaning. He said it could be about a girl who wears cut off jeans, or it could be about us having a friend named Gene who was dating a girl we didn't like, so we'd stop talking to her and cut her off"

"Commercial Soft Drink Girl"

Richie: "We all had a major crush on Britney Spears. I always wondered what she would think if she saw the lyrics to this song. I love the music to this song - it is definitely inspired by The Beatles. The hand claps in the middle were inspired by The Beatles' version of Please Mister Postman."

Frank: "A friend of mine mentioned this song to me recently and asked "Do you think anyone even gets all those references anymore?" I'm not sure. This one was Richie's music and melody, with all of us helping out on the lyrics. The part where the music drops out and the hand claps start was always fun to do live."

"I Got The Boyfriend Line Again"

Richie: "I like the lyrics to this song a lot because it's one of the truer songs. You're trying to talk to a girl, hoping it will lead to something good, all of a sudden she conveniently mentions her "boyfriend". I remember that Mass' girlfriend thought that 'The Boyfriend Line' was a hotline that we accidentally dialed, lol. I really like the music on this song - especially the breakdown in the middle."

Frank: "I always hated getting the boyfriend line."

"Girls For Dummies"

Richie: "This was us writing a book on how we saw other guys play the game. We never actually followed these rules, but saw that it worked well for these aggressive douchebags. I really like the music to this song - especially our tribute to Green Day at the end. I also love the George McFly clip in the middle - it fits in perfectly."

Frank: "We wrote a lot of stupid lyrics, but these are definitely up there near the top of the list. Fun song though. Again, Richie's music and melody with all of us working on the lyrics. Like we mentioned earlier, Jesse Michaels was in town while we were recording. Early on in the session Mass said that Jesse would be arriving soon and mentioned the possibility of asking him to record some guest vocals for the album. Turns out Jesse never came to the studio while we were there...we only hung out with him when we went out to dinner one night. But when Mass first mentioned having him sing on the album we started thinking of what song he could do. All of our songs are very vocal/harmony based, while Jesse has a heavier, almost rapping style sometimes. For one reason or another we thought he might be a good fit for the verses on "Girls For Dummies". Thankfully we never got the chance to put this plan into motion, because I doubt it would have been good for anyone involved. Who am I kidding though? I woulda shit myself if Jesse Michaels had sung on a GP record."

"555-Girl"

Frank: "There are a lot of dated references on this album and this song is no exception. The concept of "sitting by the phone" and waiting for a girl to call is something that today's cell phone generation will never experience. Music/melody by Richie, words by Goin' Places."

Richie: "This was meant to be a rock n' roll type song. It is decent for a punk rock album. It also has some of our earliest, immature lyrics."

"Jen"

Richie: "This was one of our earliest songs. I like the music to this song - it is only 2 chords (with a 7th chord variation in the middle part) and a lot of harmonies. Unfortunately, like 555-Girl, it also has some of our earliest, immature lyrics."

Frank: "Brett at Coldfront Records wanted us to leave this song off the album because he felt it was too offensive or harsh. Can't say he was wrong. I'm glad we pushed back though and kept it on the album."

"I Like Your Girlfriend"

Richie: "I think we wanted to write a song about liking someone else's girlfriend. Victor wrote the music to this one. For some strange reason, we decided to put both a guitar lead and a keyboard solo at the same exact time."

"I Hate Your Girlfriend"

Richie: "We already did "I Like Your Girlfriend" so it was naturally funny to write about the opposite. This is another dark-humor song. It's an exaggeration of how much it bothered us to see a man lose his identity because of a girlfriend. Usually I don't like our older lyrics, but one line that I wrote is still one of my favorites: 'She took your freedom, she took your life. You may be single, but she's your wife.' Adding the bitchy girlfriend's voices to this song was a lot of fun. I remember Mass had a female friend of his on the phone - she did an excellent job. I remember being excited and telling her to recite this line (which she nailed): 'You're ugly, worthless, and a disgrace to human society' "

Frank: "A few days ago my brother asked me who this song was about. He was disappointed when I told him no one. We used to like to come up with funny song titles, then write songs based off those. "I Like Your Girlfriend/I Hate Your Girlfriend" came out of that. We also considered doing "I Like My Girlfriend/I Hate My Girlfriend", but that never happened. The chorus to this song came from the Screeching Weasel song "Gotta Girlfriend". Mass played on and produced that song, but he never said anything to us about lifting it. I always thought he had to know, but maybe after years and years of working on 3 chord pop-punk songs, they all start to blend together."

"I Like Girl Songs"

Frank: "I got the idea for this song from the Dead Kennedys' "I Like Short Songs". Richie and Victor usually take care of writing the music for Goin' Places songs, but I think this song turned out ok, despite my lack of experience as a songwriter. We all worked on the lyrics together. In fact, this song is the only one in the GP catalog to feature an outside writer. My brother was at practice when we were working on it and contributed the line "the music is all I got, but you're the one I want"

Richie: "Frank wrote the chord progressions for this song. I think I added the melody. It came out to be a good song - one of our slower ones. This is another song where I can actually appreciate the lyrics - because they are true. I love the bridge - just one word, "girls" - with harmonies."

"The Only Way (Reprise)"

Richie: "This was definitely inspired by The Beatles (the 'reprise' part). I love harmonies and acapella - it was a great, unconventional way to end a punk rock album."

Frank: "I remember Mass getting a kick out of recording a song with no instruments on it"