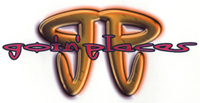 Home | Discography | Biography | Merch | Press | Shows | Contact
5/23/2012



Our song "Nobody Gives A Shit About Us" is now available for Rock Band 3 on Xbox 360 for only $1. The track allows for up to 7 players at the same time...guitar, bass, drums, keyboards, and 3 part vocal harmonies. You can get it from the Rock Band online store or here.
5/03/2012



The title track from our latest album "Relationship Sneakers" is now available to download and play on Rock Band 3 on Xbox 360. You can get it for $1 through the in game music store or by going here. After 30 days the song will be eligible for inclusion on the Playstation 3 gaming network. Songs are chosen the PS3 network based on Xbox sales and player requests. If you'd like to request that our song makes it way to PS3 you can do so here. Stay tuned for info on the next Goin' Places song in Rock Band in the next week or two...
4/09/2012
Our latest album "Relationship Sneakers" is now available on CD from SP Records in Japan! The album is part of their Short-Run CD Series and is limited to 100 hand numbered copies. The layout and packaging is very similar to the old Mutant Pop Short Run releases (old school Goin' Places fans will remember our "Warm Up" EP from the Mutant Pop series). The booklet features full color front and back panels and the inside has all the lyrics. Grab one here for only $5. These are going to go fast so be sure to order soon!
3/09/2012
Check out the new press section. This contains reviews/interviews of Goin' Places.
2/28/2012
2/14/2012
1/9/2012
Our new full length album, Relationship Sneakers, will soon be released on Bright & Barrow Records! You can pre-order the album here. It's available for $3 or for $12 with the T-Shirt seen below. Both options are digital downloads.






The official website has been re-designed. Enjoy!
11/21/2011
An updated website is coming soon. In the meantime, go to our facebook page for news on our upcoming album.
7/1/2011
A new Goin' Places full length album has been recorded! We plan on releasing it to the public once we finalize the album title / artwork. Stay tuned!
---
Designed by Goin' Places Inc. © Goin' Places Inc.
goinplacesrock@gmail.com